INTERACTIVE SOLUTIONS
FOR
Virtual and Distance Learning
Make online classes at home easier for your students with our interactive solutions for remote teaching.
Teach from the classroom at the educational institution or from home;
Provide dynamic and collaborative learning experiences;
Involve the whole class with stimulating educational resources;
Apply the advantages of technology for safe and immersive online teaching.
Wingsys Virtual Classroom
The current public health situation has created educational needs that led Wingsys - Interactive Technology to develop Wingsys Virtual Classroom, a remote and face-to-face interactive classroom solution that aims to "Connect Education":
• Empower schools with technological solutions necessary to implement distance and hybrid education;
• Ensure the continuity of teaching of all programmed content in a collaborative and controlled environment, in which the teacher has total pedagogical control over the class;
• Ensure a real-time interaction between teacher and students, with high image and sound quality;
• Enhance interactive experiences with multiple contents that engage the students and facilitate learning.
How it works?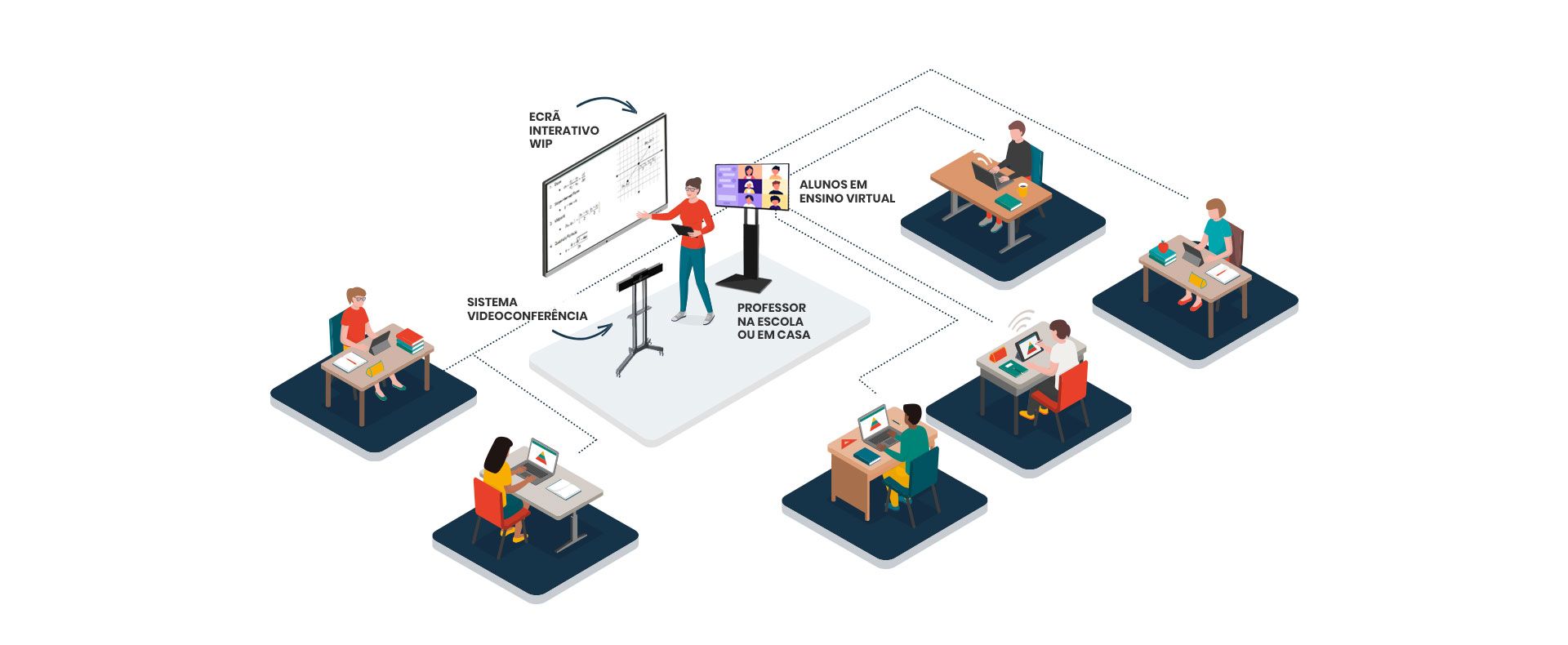 What is included in this Solution?
WIP interactive display of 65", 75'' or 86'' with several pedagogical tools of the teacher (where he manages the whole class, writes, edits and shares content);
Additional monitor of 65" Ultra HD (4K), with Wifi and 16/7 capacity, where the teacher and the classroom see all participants online;
Wireless keyboard and mouse set to make it easier for teachers to use all Windows resources;
Lavalier microphone for teachers for complete freedom of movement;
Compatibility with any collaboration platform (Zoom, MS Teams, Google Meet, or others);
Respective supports to ensure mobility of the solution and adaptation to any classroom;
Wimodule PC, a Windows PC with the ability to connect the different equipment;
Base videoconference kit for maximum connection between teacher and students in an online environment (one 4K camera) or for a mixed environment (two 4K cameras + 1 expansion microphone);
or
Plus version: Replacement of the Base Kit by the Plus videoconference kit for maximum connection between teacher and students, ideal for amphitheaters and auditoriums in a mixed collaborative environment (trhee 4K 360º cameras + 1 expansion microphone).
Optional: ZOOM for Education software
Our Products for
Virtual and Distance Learning